Rosemount High School - Dedication Page
In Memory of....
Mr. R. Burnham - Teacher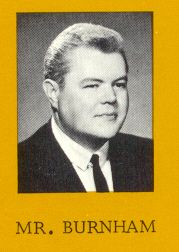 Another Picture Below
---
I remember Mr. Burnham as a teacher that could talk to the student and truly enjoy listening to them. He was more of a friend who taught chemistry. Till we meet again.
Roman Husiuk - Student 1970


---
He had a saying, your ass is grass and I am a lawnmower. Ok , ok I caused a little trouble back in high school. He made a lasting impression and was one of the memorable teachers.
Goodbye sir!
Shawn Poirier
---
Please add your remembrances about Mr. R. Burnham below.....
If for any reason this form does not work correctly for you, please copy and paste the information into your email page and send it to Bev McLaughlin (Chapman) and I will update this page as soon as possible..
Free JavaScripts provided
by The JavaScript Source