Rosemount High School - Dedication Page
In Memory of....
Richard Chapman - 1963 Grad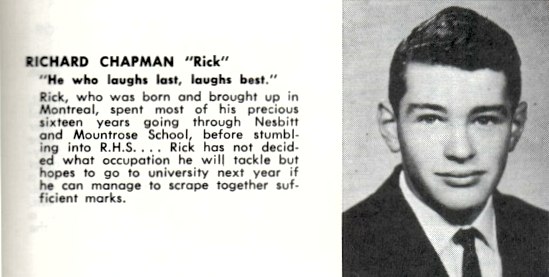 ---
My brother, Rick Chapman, died June 22, 1966. He was paddling in a double kayak at the Cartierville Boating Club when the kayak tipped. According to regulations, his partner swam to shore while Ricky stayed with the kayak. When he had completed the appropriate procedures, he began swimming back to shore. Apparently Ricky had unknown heart problems and due to the coldness of the water and overexertion, he had a heart seizure and died immediately.
Ricky graduated from RHS in 1963, and at the time of his death he was entering his second year at McGill University. We miss Ricky so very much but his memory stays very close in our hearts.
Pam Chapman - Sister

---
I was just searching the net and went to "Cartierville Boating Club" and the page dedicated to Rick came up. I remember Rick as an up and coming paddler and I spent some time training with him. I was there the day Rick died. I was also the first person that Al McLeery spoke to when he looked at me and asked if it was Rick. I said yes and Al ran down to the dock. We all helped in the rescue effort but it was too late. We still speak of Rick when we get together for boating club reunions. Rick's paddling partner that day was Pierre Bertrand and it happened just the way Pam described it. It's nice that you put this page on the net. Rick will always be remembered.

Please say hi to Pam for me as we were friends at the Boating Club.

Regards

Patrick Bossy

---
Pam I remember that awful day to this day. We were all at the boating club. The memories rushed back when Pat Bossy let me know of the site. I hope all is well in your life. Seeing your name also brings back the memories of your friends at the Cartierville Boating club starting with Pete Savard that I have not heard from in the last 6 years. Please be well.
Rgds Thomas Edge - Friend
---
Please add your remembrances about Rick below.....
If for any reason this form does not work correctly for you, please copy and paste the information into your email page and send it to Bev McLaughlin (Chapman) and I will update this page as soon as possible..
Free JavaScripts provided
by The JavaScript Source