Rosemount High School - Dedication Page
In Memory of....
Andrew Grecoff - 1980 Grad
---
My brother Andrew Grecoff passed away in an accident August of 1995. He left behind his wife and 2 boys, my other brother Alex, and my parents. Andrew graduated in 1980.
Michael Grecoff - Brother

---
I truly enjoyed Andrew as a student in my English class at Rosemount High. Andrew seemed such a positive teenager, with friends whose company he really appreciated. Mr. Grecoff would come to Parent-Teacher interviews, always wanting Andrew to improve, as every parent does, and always so proud of his son. I have especially fond memories of seeing Andrew as a husband and dad, in chance meetings we would have around town. In 1995, I was so sorry to read of his passing, as I had just seen him in March of that year, 15 years after Graduation. I hope the passing of time has allowed some healing, but can it ever really? I think of Andrew often; he touched my heart so many years ago.
Susan Read - English teacher - 1975-1981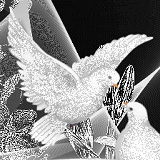 ---
Please add your remembrances about Andrew below.....
If for any reason this form does not work correctly for you, please copy and paste the information into your email page and send it to Bev McLaughlin (Chapman) and I will update this page as soon as possible..
Free JavaScripts provided
by The JavaScript Source