Rosemount High School - Dedication Page
In Memory of....
Linda Lee - 1970 Grad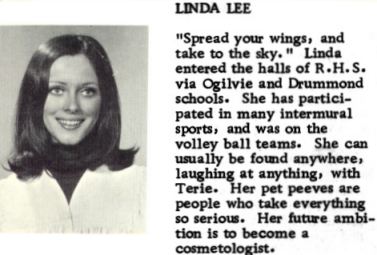 I had a huge crush on Linda, but never had the guts to tell her, although I guess she knew. Linda, Terie Drake, Alan Baldwin, and myself went to see Janis Joplin at the Forum in 68. I will always remember that concert and the good times we shared.
Peter Brown, Friend

---
I THINK VERY OFTEN ABOUT OUR CHILDHOOD MEMORIES, OUR MOTHERS WERE BEST OF FRIENDS, WHICH BROUGHT US TOGETHER OFTEN. RARELY IS BEAUTY FOUND ON THE OUTSIDE OF A PERSON AS WELL AS THE INSIDE, LINDA IN MANY WAYS YOU WERE LIKE YOUR MOTHER, NOW BOTH OF YOU ARE SADLY MISSED.

DEBBIE LOWE - FAMILY FRIENDS




---
Please add your remembrances about Linda below.....
If for any reason this form does not work correctly for you, please copy and paste the information into your email page and send it to Bev McLaughlin (Chapman) and I will update this page as soon as possible..
Free JavaScripts provided
by The JavaScript Source