Rosemount High School - Dedication Page
In Memory of....
Thomas Wyke - 1970 Grad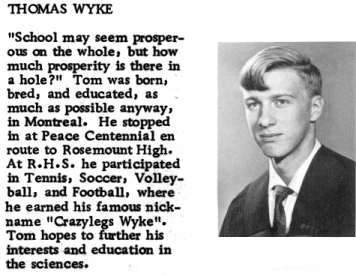 Thomas Wyke died in an auto accident on the Metropolitain Blvd. not long after graduation, but I don't remember the circumstances. He was a great guy, lots of fun, always had a smile and a joke.
Glenn Funamoto

---
I was young when my brother died, but I only have fond memories. He had only been married less than a year when the accident happened. It was a terrible loss. Thanks for remembering him.
Nancy Wyke - Sister

---
Please add your remembrances about Tom below.....
If for any reason this form does not work correctly for you, please copy and paste the information into your email page and send it to Bev McLaughlin (Chapman) and I will update this page as soon as possible..
Free JavaScripts provided
by The JavaScript Source