Rosemount High School - Dedication Page
In Memory of....
Spiro Xenos - 1968 Grad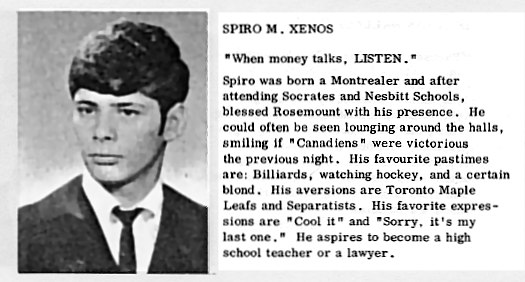 ---
We were good friends through our school years. Lost touch in 73 or 75 if someone can tell me when it happened, was he sick or was it an accident? Was very very sad to hear about Spiro. I will always remember him & think of him on his birthday March 8th.
Diane Lanthier - A friend
---
Spiro lived around the corner from us on 7th Ave. and Villeroy. (between Jean Talon and Jarry) My Brother Jim and I had a fight with Spiro and his brother one day across from our house, and they rubbed the back of our hands into the gravel, shit that hurt. Besides that we were pretty good friends. Spiro died young, from what, I don't know. He snitched on us to the Principal about our theft of musical instruments, and I and Kieth Titterton ended up in juvenile detention for two weeks. RIP Spiro Sincerely Don Double ddouble0@gmail.com
---
Please add your remembrances about Spiro below.....
If for any reason this form does not work correctly for you, please copy and paste the information into your email page and send it to Bev McLaughlin (Chapman) and I will update this page as soon as possible..
Free JavaScripts provided
by The JavaScript Source